Five Foods for the Health of the Eyes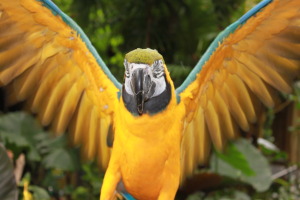 May the Luck of the Irish Be With You, Always!
Mark and I met Art in Vancouver, at the Bloedel Conservatory in Queen Elizabeth Park. He was putting on quite a show for us. I am so grateful for my vision which allows me to see grand spectacles like Art, flowers, trees, birds and bees. I have been blessed with good vision and have not required glasses or any other assistance in order to see. I do have an eye exam occasionally to be sure that all is well. My eye doctor informed me that by the time women reach my age, they begin requiring some spectacles. He also told me that in a few years, he could prescribe some bi-focals. I happen to be a strong bit Irish and that Irish competitiveness popped out when he said that. It is my intention to eat for the health of my eyes as well as for the rest of my body and hopefully be able to decline his offer. Here are five foods (avocados, carrots, sweet potatoes, almonds and dark leafy greens) and a few smoothie recipes to help with this.
Mark your calendars, I will be giving a presentation called "Nourishing Foods for Skin and Health" on March 28th, 12:30-1:30 at the newly opened Natural Grocers in Fayetteville, AR.
Tropical Antioxidant
For a fast breakfast drink or anytime pick me up with a double dose of potassium, eye benefiting lutein and free radical scavenging antioxidants, add one banana, one ripe avocado, 1/4 cup of blueberries or mixed berries, one scoop Kal stevia or 1 Tbs honey or maple syrup to a Magic Bullet or other blending machine. Add approximately 1/2-1 cup of water and blend.
Carrot Cake Smoothie
Here is a tasty way to have eye benefiting carotenoids from carrots. Boil three washed carrots and three dates, leave skins on for extra nutrients. Allow to cool or add ice cubes. Add carrots, pitted dates, 1/8 cup coconut flakes, 2 Tbs coconut oil, 2 Tbs cream cheese, 1/2 tsp cinnamon, and 1 cup of water (use cooled water from the boiling ) into the Magic Bullet and blend until smooth. For extra sweetness, add 1 Tbs maple syrup.
Sweet Potato Cream
The sweet potato is loaded with beta carotene, it actually has a higher content by weight than carrots. A super fast way to prepare a sweet potato is in a pan of water. I wash the potato and cut any tough spots or scrapes and place in a pan of water that covers half of the potato. Place lid and allow to boil until a fork easily slides into it. Be cautious that the water doesn't cook out, as it makes for quite a mess in the pan. Add medium sized boiled sweet potato, 2 Tbs Organic whipping cream, 2 Tbs coconut oil, 1/2 tsp cinnamon, 1 Tbs maple syrup or 1 scoop Kal stevia (if extra sweetness is desired) and 1 cup water (use cooled water from boiling) to the blender. Blend until creamy.
Nuts and Greens
Almonds are also good for the eyes with their high Vitamin E content. Almonds are a good source of protein and Omega 6 fats. Sprouting nuts increases digestibility and makes the nutrients more available and by removing the enzyme inhibitors and activating the enzymes. I soak raw almonds over night and place in the Excalibur dehydrator at 115 degrees F, this allows them to be dry but still raw. A handful of sprouted almonds makes a great snack or a great addition to a salad. Dark leafy greens such as spinach, kale and collard greens with their lutein and zeaxanthin are also beneficial for the eyes.
If you or someone you know are struggling with losing weight or regaining/maintaining health, health coaching may be right for you. Feel free to share this article with those you think might benefit.
For appointments: Call or Text 479-283-6507
Category : Blog Posts Posted on March 13, 2015